The charming city of Chernivtsi was another stop on our fabulous 13-day adventure with Cobblestone Freeway Tours.  It is actually the capital city of a region called Bukovyna which sits on the upper course of the River Prut.  It is an amazing land enriched by mixed influences from Ukraine, Romania, and Moldavia.  I certainly saw this reflected in its culture, history, and architecture.
If you ever get the chance to visit Chernivtsi (and I hope you do!), do yourself a favor and take a leisurely walk around this beautiful city.  It is very walkable and there is quite a lot to see. It was once a part of the Austro-Hungarian Empire which means you'll find a mix of architectural styles, including Baroque, Gothic, Vienna Secession and more.  Cobblestone Freeway arranged a city tour with a very knowledgeable guide who helped explain Chernivtsi's long and complicated history.
The city is considered to be one of Ukraine's most important educational sites.  Therefore, I'd highly recommend touring the beautiful Chernivtsi University, a UNESCO World Heritage Site. The architecture is quite stunning and a visit isn't complete without seeing the famous Residence of Bukovynian and Dalmatian Metropolitans.  It was built between 1864 – 1882 by Czech architect Josef Hlávka.  Some notable rooms include the Chapel, Synodal Hall with a beautifully painted ceiling, former library of the Metropolitan, and the famous Red Hall.  UNESCO describes the Red Hall as "an extraordinary beautiful wooden jewel box, whose wall painting resembles a sophisticated trimming with red Chinese silk."
We were lucky to explore outside of the city and take a fun day trip to visit Khotyn Fortress and Kamianets-Podilskyi Castle!  The drive was just under 90 minutes and our first stop was Khotyn Fortress.
Khotyn Fortress is very ancient and only an hour's drive outside of Chernivtsi.  In 2007, it was named one of the Seven Wonders of Ukraine and it's easy to see why!  The current fortress you see today was constructed in 1325.  Naturally, there are quite a few legends about the fortress due to its long and fascinating history.  There's a very large dark spot on the side of one of the outer walls. Some say a girl was buried alive by the Ottoman Turks in the wall of the fort and those are her tears.  Another legend says its the tears of the Khotyn rebels who were also killed by the Turks inside the fortress.  We may never know!  All of these mysteries make it an even more interesting place to explore.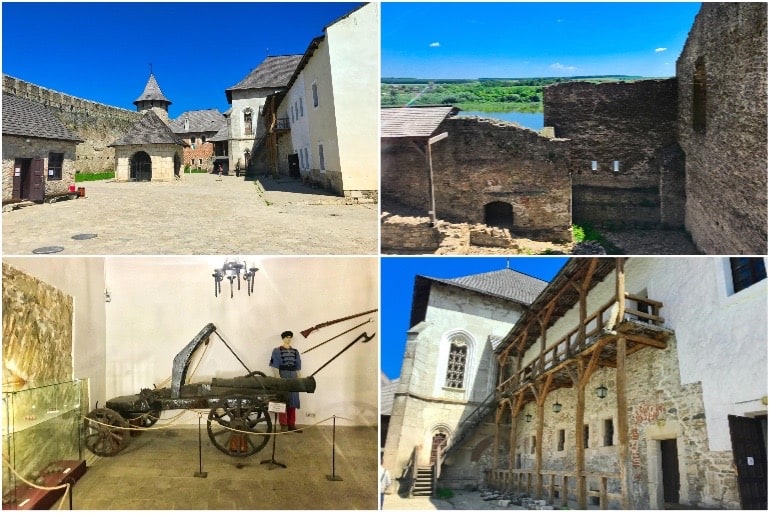 We stopped for lunch at Pid Bramoyu Restaurant. It's a very interestingly appointed cafe on the terrace of the old city gate overlooking the Turkish bridge and the castle. We sat outside in an separate location, which was perfect for our large group and enjoyed the views of the castle. Next to our table was a huge dragon statue and I couldn't resist the photo op! The interior is medieval style and it fully corresponds to the atmosphere. The cuisine is a mix of Western Ukrainian and Armenian. We had an array of different salads and meats to enjoy.
After lunch we walked over to Kamianets-Podilskyi Castle. There's been a castle on the site since the 13th century and the original would've been made out of wood.  A stone castle was built at the end of the 14th century and it was modernized in 1621 when it attained its present form.  The are 7 towers remaining (originally twelve) and they dominate over the beautiful surrounding Smotrych River canyon landscape!  It is an impressive site to see and I loved walking around this ancient place.
After being out most of the day, it was very refreshing heading back to the Bukovyna Hotel. The hotel is centrally located and so comfortable. After freshening up, we went to the summer terrace area outside and enjoyed some cocktails. In Soviet times, the "Bukovyna" Hotel used to be the only "Foreign Tourist" Hotel.
Cobblestone Freeway Tours had a surprise evening planned out for us!  They took us to a performance by a folk group called Gerdan, which is also the name for the beaded necklaces the ladies were wearing. They performed several songs, and traditional dances for us.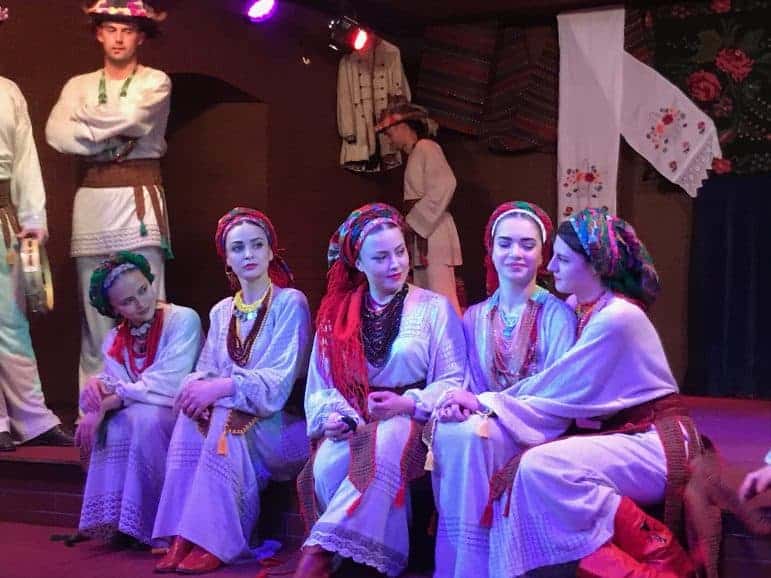 After the performance, we had dinner at Hopachok. 
The restaurant's interior is
decorated
 with household items from a traditional Ukrainian village and melodic
folk music.  We tasted ethnic Bukovynian dishes which were prepared 
according to ancient recipes, as well as contemporary dishes of Ukrainian cuisine inspired by the
culinary trends.  The food was delicious!  
After three lovely days of exploring Chernivtsi and the surrounding area, we were off to Kiev!  Cobblestone Freeway Tours arranged for us to take the overnight train which was a new and exciting experience for me.  The journey is long, about 10 hours, but it can go by fast if you manage to get some sleep.  Luckily, I had a sleeper cabin with a bed!
Lviv and Kiev might be the more well known cities in Ukraine, but Chernivtsi should absolutely be on your travel list as well!
Save
Save
Pin This!