There are those special hotel brands where you always know you can count on for a memorable and comfortable stay. For me, that is Corinthia Hotels! After my fabulous experiences with them in London and St Petersburg, I was so incredibly excited to fly to Portugal for a few days to stay at their luxurious and contemporary Corinthia Hotel Lisbon. It was also my first trip to Portugal, which only added to my enthusiasm!
I knew I was in the best hands when it came to not only accommodation, but planning the best sightseeing activities in the city. Corinthia Spa's is also world-renowned; that was definitely another aspect of my itinerary I was looking forward to experiencing. After all, the Corinthia Hotel Lisbon prides itself on being a 21st-century upscale hotel, and what is more luxurious than treating yourself to a day at the spa?!
During my stay at the Corinthia Hotel in Lisbon, I was blown away by their passion for craftsmanship and small details, as well as their deep understanding of world-class service.
Checking in at Corinthia Hotel Lisbon 
The hotel is located only 7 kilometers from the airport so I arrived very quickly after stepping off the plane. I was also pleased to see how close the hotel was from the historic city center, with excellent links to public transportation. The Corinthia is an ideal base to explore Lisbon, a beautiful city steeped in history, which also perfectly combines elegance and modernity. I found that the hotel reflected the feel of the city with its elegant yet modern interiors.
Executive Club Sky Lounge
The private check-in afforded a quiet and peaceful process to getting into the room as quickly as possible. I arrived very early in the morning from an overseas flight, dropped off my bags in my room, and afterward I was quickly welcomed into the beautiful Executive Club Sky Lounge on the 24th floor of the hotel. Access to this incredible lounge is included with the booking of selected suites and rooms. I soon discovered that it is absolutely worth the extra splurge, and then some!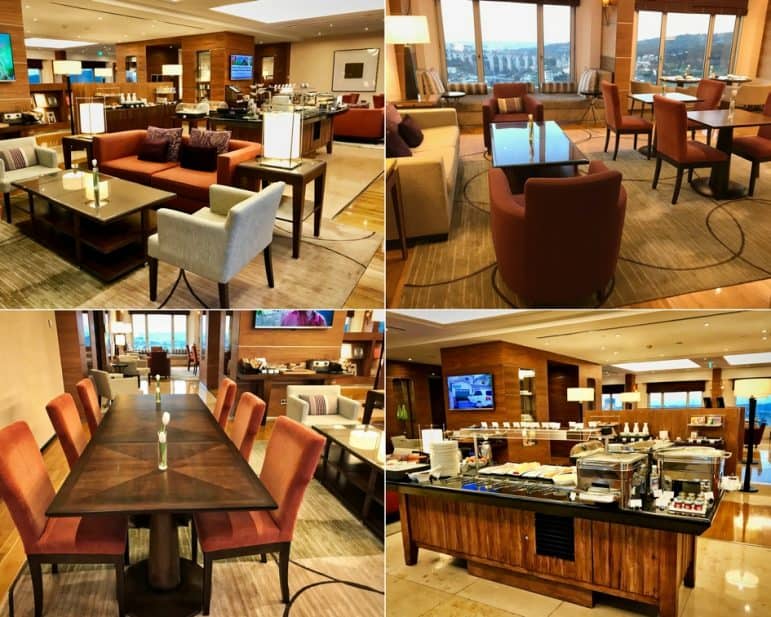 On arrival, I was happily greeted with a freshly made cup of coffee. However, what immediately caught my eye was the stunning views of the city! While overlooking Lisbon, I enjoyed their breakfast buffet which is included every morning. The chef kindly made a welcome crepe for me when he found out it was my first time in Lisbon! It is special touches like that which truly make you feel welcome at the Corinthia.
Along with a generous breakfast buffet in the mornings, there are all-day complimentary refreshments and canapés available in the lounge, as well as use of their boardroom if you need to get some serious work done. I also enjoyed their concierge services which helped me with restaurant suggestions, sightseeing advice, and most importantly, booking my spa treatments for the weekend!
Accommodations
However, before venturing out to explore, I had to check into my beautiful remodeled suite which was ready before I knew it. This five-star hotel offers 518 rooms, including 24 Executive Suites, 1 Ambassador Suite, and 1 Presidential Suite. It is safe to say, you are spoiled for choice here and can be sure that all your needs will be met.
My home away from home was their Junior Suite, a beautiful open plan room with breathtaking views of Lisbon, and comfortable yet contemporary furnishings. These suites are perfect for longer stays or if you are simply looking for extra room to spread out or work. As always, when it comes to Corinthia Hotels, my king size bed was beyond comfortable. I also really enjoyed the floor-to-ceiling windows which ensured fabulous natural light.
I had a nice surprise waiting for me in my room, when I returned from my jetlag spa massage. It was a nice bottle of Porto, melon, pennyroyal juice, and several pieces of pineapple carpaccio with pomegranate, salmon gravlax, almonds, and chocolate brownie with fresh berries.
Modern amenities such as complimentary Wi-Fi access and an LCD HD TV with almost 100 channels and films are always appreciated. You can also enjoy coffee and tea in your room thanks to the Nespresso Coffee Maker. If you prefer other drinks, the mini refrigerator is well stocked.
My walk-in closet was very spacious with drawers for all my clothes. One of my favorite features of the room was that I could control all the lights from the control panel next to my bed. The wall USB ports and outlet were very useful to charge my phone and devices.
The bathroom in the Junior Suite was very ample with a double sink vanity, a soaking tub, and an enclosed shower. On the counter, you will discover a selection of luxurious shower and face products.
Dining Options
We made the most of the mild weather in Lisbon one day and decided to have breakfast outside in the relaxing Terrace Lounge. Sete Colinas is open for daily breakfast buffet and offers a wide variety of dishes. You have the option of eating indoors or outside, weather permitting.
I enjoyed my egg white omelet, sliced fruit, lactose-free oatmeal pancakes with blueberries, and muesli with wild berries for breakfast.
Erva Restaurant specializes in traditional Portuguese cooking. The vertical gardens lining the walls reflect the fresh menu which features an eclectic mix of locally sourced cuisine, combining near-farm ingredients and a wide selection of regional wines. You can choose whether to eat indoors or enjoy their specialties dining alfresco.
We dined twice at Erva Restaurant. During our first lunch, for starters, we had the tuna carpaccio and plum tomato salad with mozzarella and, for my main entrée, I selected the seabass. I also enjoyed a wonderful dinner at Erva Terrace with a very relaxed atmosphere. Definitely my favorite dishes were the Arouquesa beef tartare and the chocolate textures dessert, besides a fabulous Quinta da Bacalhôa 2015 red wine.
The Corinthia Hotel Lisbon has many options for an entertaining evening. You can continue at the Erva Cocktail Bar or move to the adjoining Soul Garden Terrace where you can not only have brunch or dinner, but also have fun while tasting refreshing cocktails with a sultry soundtrack on the backdrop at one of its spectacular private cabanas.
In the evenings, the Tempus Lounge is also a perfect place to relax. Tempus Lounge Bar Manager Nelson Antunes served up drinks for each of us based on our personal preferences. Mine was a delicious strawberry and champagne combination and it was served in a giant strawberry!

The SPA by Corinthia Hotel Lisbon
Besides seeing everything Lisbon has to offer, I was most excited to try out The Spa by Corinthia Hotel Lisbon. Before arriving, I had heard nothing but great things about this incredible 3,500 square meters space, which offers 13 tranquil treatment room, a cutting-edge gym, heated indoor swimming pool, and so much more! My expectations were not only met, but were exceeded after receiving four amazing treatments.
On my first day in Lisbon, I enjoyed a 30-minute Airport D-Stress Ritual, which is the absolute perfect way to treat yourself after a long-haul flight. I had a choice between a foot massage, muscle reviver massage, or a head, neck and scalp massage. It's a hard life, I know! I went with the muscle reviver massage, or jetlag massage as they called it.
The next day, after my first full day of exploring Lisbon, The Spa's Deep Evening Escape was the perfect way to wind down. The treatment started with Emotional Balance, which includes 60 minutes of Mind & Posture Alignment. Then there are another 60 minutes of enjoying their Acqua Therapy Facilities. Here I immersed myself in a heat and sensory experience which I found to be very unique and rejuvenating.  Last but not least, I chose a 50-minute facial, the perfect D-Stress Treatment to end a fabulous Deep Evening Experience!
One of my absolute favorite treatments I've ever received was The Spa's Portuguese Journey Signature Massage, inspired by the Indian Discovery Routes, led by Vasco da Gama! This treatment starts with a full body exfoliation with sea salt from Lisbon's coasts, combined with the unique properties of clove buds and cinnamon. These were a few of the first exquisite spices that were brought to Europe by Portuguese navigators in 1498.
After the lovely exfoliation process, I enjoyed a powerful yet soothing moisturizing oil, blended to relax tired muscles and ease the mind with the deeply warming effect of clove bud and Indian Bay. It was absolute bliss, and I really enjoyed how they made it a truly authentic Portuguese experience.
The attention and care I received from the professional spa therapists was very impressive! The Corinthia's expert team uses the wonderful skincare brand ESPA, as well as the most advanced techniques combined with ancient therapies from both the East and West. At the Corinthia Lisbon, guests also have 24-hour access to their state-of-the-art gymnasium which is fantastic.
If you are thinking about staying at the Corinthia Hotel Lisbon for business, this is the ideal place! Their meeting and events space can hold up to 1,400 people with their Conference Center offering 16 rooms featuring elegant interiors with beautiful natural light. For any event, you can expect a highly-trained Events Planner at your service to assist you with all of your needs.
There is no doubt in my mind that Corinthia Hotels are the most luxurious and hospitable hotels in the world. The Corinthia Hotel Lisbon is certainly no exception, and my trip was more memorable thanks to their impeccable service!
Disclamer:  I was a guest of the Corinthia Hotel Lisbon, and all opinions here are my own.
Pin This!