In my opinion, the best souvenirs to bring back home with you are photographs. What better way to reminisce and relive your trip than through memorable snapshots? While visiting Bali for the first time with my husband, I wanted to make sure we captured not only the beauty of this part of the world, but our joy and excitement from being here as well. That's where Localgrapher came in!
Localgrapher provides fantastic local photographers and videographers for your vacation photo needs. They are located in over 600 destinations around the globe, and lucky for us, there were plenty to choose from while we were in Ubud, Bali! One we selected our destination, we chose a local photographer named Toyoda Michael, and filled out a short booking form. They reached out very quickly and arranged all the meeting details. They always promise to confirm your reservation within 48 hours, and that's exactly what they did.
Our Silver Package, which is best for couples, included a 60-minute photo shoot and 35 HD photos. As a local, our photographer knew where the best spot was to take atmospheric photos in the early morning. Therefore, we ended up at Pura Gunung Lebah Temple which was only about a 20 minute drive from where we were staying at the Viceroy Hotel.
As far as the temple, it is clear once you arrive why it's one of Ubud's central landmarks. Dating back to the 8th century, it goes back to the time of the historical Hindu priest Rsi Markendeya. This man impressively built most of the major temples on the island. Pura Gunung Lebah loosely translates to 'mountain valley temple' in old Balinese. Similar to most of the ancient temples in Bali, the temple is set amongst lush and natural surroundings.
I loved being surrounded by a bamboo forest, and having the Campuhun River flowing just below it. Thankfully, the temple is at a distance from the main road and at a low elevation, making it very peaceful and quiet. We visited in the early morning when almost no one was there so that was another advantage of booking with Localgrapher. They certainly knew the best time to come to not only get the best experience, but the best photos as well!
As for the photoshoot, it is up to you to decide with the photographer what kind of shots you're looking for. This can include anything from portraits, candid shots, or staged ones. Our photographer was a professional and was happy to advise us on the best style, but respected our needs as well. Both my husband and I felt very at ease, and we enjoyed taking both staged and candid shots together around the temple. It was raining a bit in the morning, but that didn't stop our fun. Localgraphers will hold photo shoots rain or shine. However, they are flexible if you want to move your photo shoot to a different day. Just let them know ahead of time and they will do their best to accommodate!
Once we were back at our hotel, we decided to snap a few more shots there as well. The Viceroy in Ubud is a luxurious property with so many picturesque spots, so we made sure to take advantage of that.
In terms of what happens after our photoshoot, I was very happy with the experience. On their website, they promise to send you your edited, high definition photos within 4 business days (or 2 weeks if you did video). I received the photos after a few days, and I was very pleased with their speed and professionalism throughout the shoot and afterwards. In any package with them, they will also store your photos for up to 2 years incase you somehow lose them.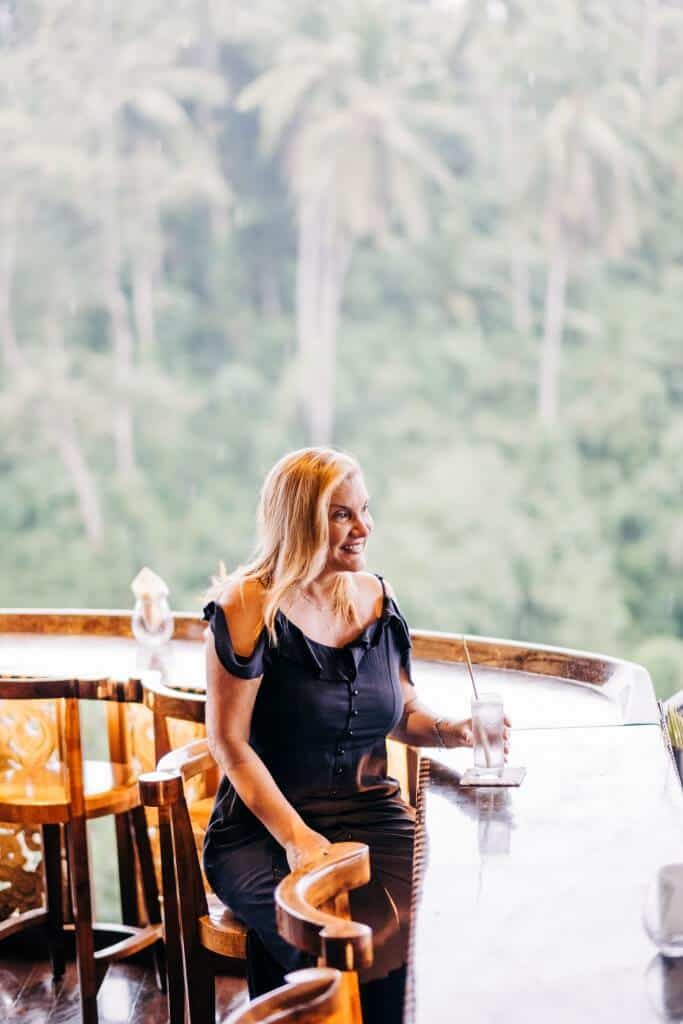 There's quite a few packages you can choose from with Localgrapher. Whether you're a solo traveler, a couple, or in a group, there's going to be a perfect package for what you need. They are so confident in their services, that they offer a 100% money back guarantee! If you don't like your online gallery once they send it to you via email, you can contact them within a week and claim your money back. That's how confident they are with their services, as they should be.
Localgrapher also makes for a great gift to a fellow travel enthusiast! You can send someone a gift card which can be applied to any of their photo shoot packages, and the card will never expire. In my opinion, this is a great gift to give someone celebrating a recent engagement, birthday, anniversary, pregnancy, or any other special occasion. In addition to a gift card, you can also gift a hand-made photo book that they will receive with all of their precious new photos. The album will be a soft-touch padded hardback covered in metallic gold. All of these photo albums are high quality with lay flat binding. It comes neatly packaged in a gift box as well and they ship worldwide. What more could you possibly want?!
I know I'll be using Localgrapher for my next holiday, and I hope you do as well. Travel creates memories that will last a lifetime, and Localgrapher makes sure you can take those memories home with you as a tangible keepsake!
Pin This!