Where luxury travel is concerned, opting for a smaller boutique hotel over a big mega-chain is almost always a good idea. Rooted in destination, they often offer up a more authentic (and charming) snapshot of the place you're visiting.
This is certainly the case in Costa Rica, where travelers will find no shortage of up-market boutique hotels to rest their heads. According to our local experts, these recommendations are among the very best.
As the name implies, this boutique offering is positioned snuggly in the lush Costa Rican jungle. The all-glass villas, which boast stunning views of the Pacific Ocean and exotic wildlife, provide a front-row seat to Costa Rica's epic wilderness. By day, guests can hit the zip-line or take to one of the hotel's private hiking trails before tucking into top-notch local cuisine.
The Finca Rosa Blanca, located in San Jose, brilliantly blends rustic pleasures with upscale amenities. Perfect for eco-travelers, the resort-slash-coffee farm plantation is nestled in the Central Valley mountain highlands—making it a wonderfully remote locale. This hotel's a top pick for those looking for an earthy, eco-friendly escape without sacrificing the luxury feel.
Natural wellness is the star of the show at El Silencio Lodge & Spa, known for its incredible waterfall views and farm-to-table fare. "Silencio" is certainly a fitting name, as the resort is almost hidden in the breathtaking highlands of the central volcanic range.
If it's jaw-dropping panoramic views and unmatched privacy you're after, the Kura definitely won't disappoint. The villas, situated on a coastal ridge that overlooks the Southern Pacific's Uvita beach, are simply sublime. The biggest draw though is the resort's ultra-luxe infinity pool.
This standout boutique hotel is a true stunner. Located on the bank of the dazzling Pacuare River, the resort touts thrills and adventure on the waterway, as well as easy access to some of Costa Rica's most colorful wildlife. (Think of it as camping, but with a luxurious twist.)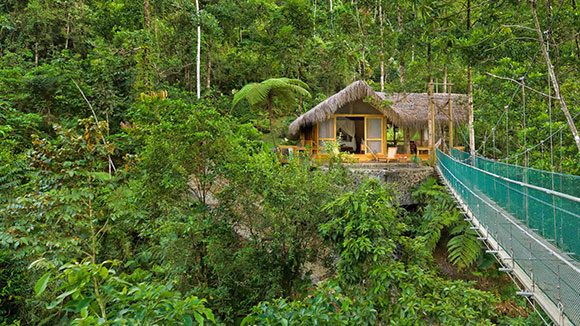 These private bungalows are ideal for art lovers. Here, guests are treated to a varied collection of indigenous art that reflects Costa Rican culture, history and heritage. As far as accommodations go, the elevated rooms provide a fantastic vantage point that truly makes it feel like you're resting on a cloud.
Wander off the beaten track at this luxury resort, which offers up eco-adventures at every turn. Beachside horseback riding, wellness-centered yoga, wildlife discovery, and hiking are all on offer. The beach villas are a treat in themselves, especially the private plunge pools.
This resort takes luxury travel in Costa Rica to new heights. Located on an ultra-secluded beach, the resort is positively brimming with adventurous excursions. (It also provides some pretty surreal sunsets.) For those more keen on relaxing, Cala Luna invites guests to unwind on its spectacular private beach.
A few other notable mentions:
This post was contributed by Insight Guides, which offers private, tailor-made trips to Costa Rica and beyond.
Pin This!